Compare Travel Risk Management Features
Protect the welfare of your employees.
From the moment they leave the house until they return safely home.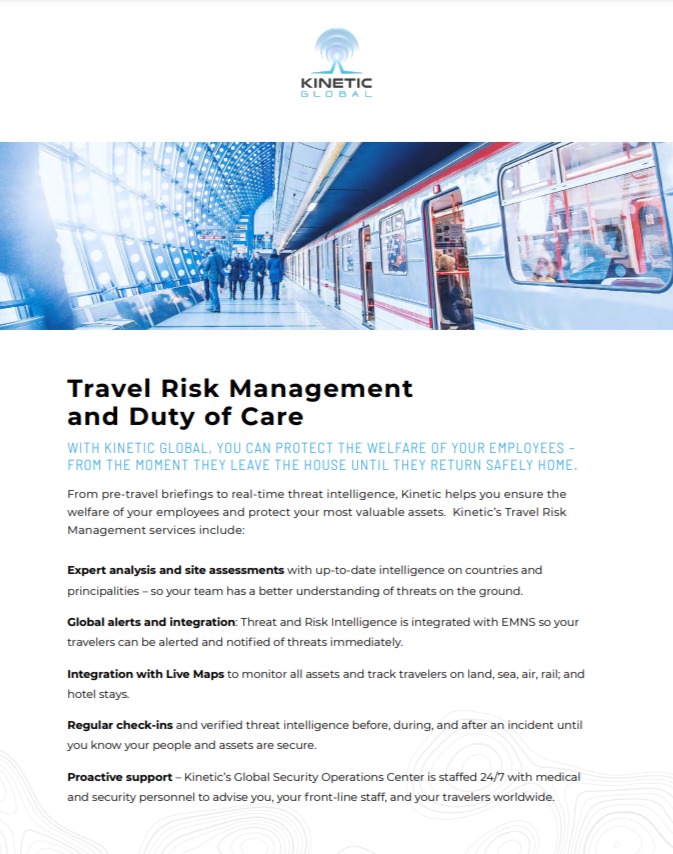 How do Kinetic Global's Travel Risk Management and Duty of Care Services compare to AlertMedia, Everbridge, and Onsolve?
From pre-travel briefings to real-time threat intelligence, Kinetic helps you ensure the welfare of your employees and protect your most valuable assets. Kinetic's Travel Risk Management services include:
Expert analysis and site assessments with up-to-date intelligence on countries and principalities – so your team has a better understanding of threats on the ground.
Global alerts and integration with Threat and Risk Intelligence
With EMNS, travelers can be alerted and notified of threats immediately
Integration with Live Maps to monitor all assets and track travelers on land, sea, air, rail; and hotel stays.
Regular check-ins and verified threat intelligence before, during, and after an incident until you know your people and assets are secure.
Proactive support – Kinetic's Global Security Operations Center is staffed 24/7 with medical and security personnel to advise you, your front-line staff, and your travelers worldwide.
Evaluating Travel Risk Management and Duty of Care Services? Download this feature comparison and see how Kinetic Travel Risk Management Services match up against the competition.