EMNS (Emergency Mass Notification System)
Emergency Mass Notification System
Live Map / Active Triangulation
TRAVEL RISK MANAGEMENT
And DUTY OF CARE
Global Security Response Centers
Case / Incident Management
Threat Identification
And Risk Intelligence
GLOBAL MEDICAL
SUPPORT AND RESPONSE
EMNS – Emergency Mass Notification System
Enterprise-grade alert engine for email, SMS, personnel safety app notification, and voice
The EMNS (Emergency Mass Notification System) is the core of the Kinetic Global Critical Event Management (CEM) platform and portal.
Alert your employees to danger quickly and efficiently with an enterprise-grade notification and emergency alert engine.
Fine-tune controls to specify the types of threats, what groups to send to, and other criteria that automatically notify your people about threats.
Send consistent and error-free messages quickly and easily. Automate and customize response activities to meet your needs.
Benefits of Using Kinetic Global's EMNS Solution
Protect the organization's reputation during a crisis
Target different messages to different audiences and groups
Large numbers of recipients receive critical information in seconds, not minutes, across multiple channels
Key personnel can respond more quickly to ensure RTOs are met
Personnel tracking for life/safety and security purposes
Crisis communications activities can be better managed through the entire life cycle of a crisis event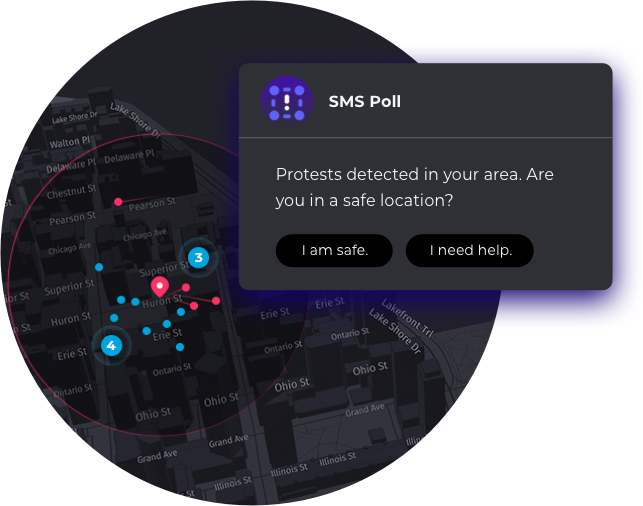 EMNS (Emergency Mass Notification System) Features
Powerful filtering technology helps you specify what types of threats are important and what groups should receive alerts. Configure the criteria and automatically notify employees of dangers. You can even determine how users receive the alerts (SMS/Email/In-App and native device alerts).
Workflows and Pre-Built Templates
Customize EMNS templates for your business or use case
Natural disasters
Active shooter
Pandemics
Terrorist attacks
Weather
Fire emergencies
Electrical outage
Violent intruder situation
EMNS works with all messaging apps and platforms
Text
Email
Desktop Alert
Mobile App Notification
Voice Call
Slack
Social
Digital Signage
View assets, filter, and message faster from one simple dashboard
Device type
Geofence
List
Threat zone
Asset type
Itinerary
Future route, and more
Emergency Mass Notification System (EMNS) Workflows and Pre-Built Templates
Integrated platform and rapid response accelerate response time
Two-way communication: Includes response summary screen for polls and data collection from the field
Know immediately if an asset is within a threat zone or needs to be notified as a remote worker or traveler
Emergency Mass Notification System (EMNS) lets you take action in under 10 seconds.
The single messaging platform integrates easily with Travel Management Systems and most HR, desktop, and messaging applications
Communicate and respond more quickly to disruptive events
Combine the modules in any combination and customize the Kinetic Global Critical Event Management (CEM) platform for your duty-of-care, resilience, and business continuity requirements.
Emergency Mass Notification System
Live Map / Active Triangulation
TRAVEL RISK MANAGEMENT
And DUTY OF CARE
Global Security Response Centers
Case / Incident Management
Threat Identification
And Risk Intelligence
GLOBAL MEDICAL
SUPPORT AND RESPONSE
Want to learn more about Kinetic Global?
Experience Comprehensive Employee Safety and Duty of Care
Traveling around the world or around the corner has never been safer with Kinetic Global. Our Critical Event Management platform helps organizations deliver Duty of Care and gives your employees the tools they need to stay safe and informed.