CRITICAL EVENT MANAGEMENT (CEM) PLATFORM – PRODUCT OVERVIEW BROCHURE
Global Risk Intelligence and Critical Duty of Care Platform
Ensure the safety and security of your people and assets
Duty of Care necessitates that you as an employer ensure your employees and executives are safe at work while traveling domestically and globally and while at home. The Kinetic Global Critical Event Management Platform is a robust solution that fills this need and offers unparalleled safety features.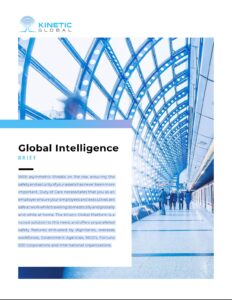 With asymmetric threats on the rise, ensuring the safety and security of your assets has never been more important.
Kinetic Global is trusted by dignitaries, overseas workforces, Government Agencies, NGO's, Fortune 500 corporations, and International organizations.
Advanced and easy-to-implement Critical Event Management platform can go live in less than 24 hours and allows security and operations personnel to:
Accelerate threat assessment with an AI/ML engine that unifies all SOC operations.
Identify risks in less than 15 seconds and gain instant visibility of at-risk personnel and facilities
Centralize SOC operations and integrate seamlessly with any connected systems
Scour all global sources of threat data, interpret risk and prioritize dissemination intelligently
Utilize a cloud-based / AWS-backed / SEN-grid platform for redundancy
Manage bi-directional EMNS to execute actions based on the type of threat exposure
Secure data access, transfer, and storage with elite encryption
Eliminate disjointed, inefficient systems — go live fast—no massive infrastructure replacement
Want to learn more? Request a copy of our Critical Event Management product brochure today.