Compare Crisis Consultancy Services
Be prepared for the unpredictable.
Due to their unpredictable nature, it is important for organizations to prepare in advance for both a crisis and a response.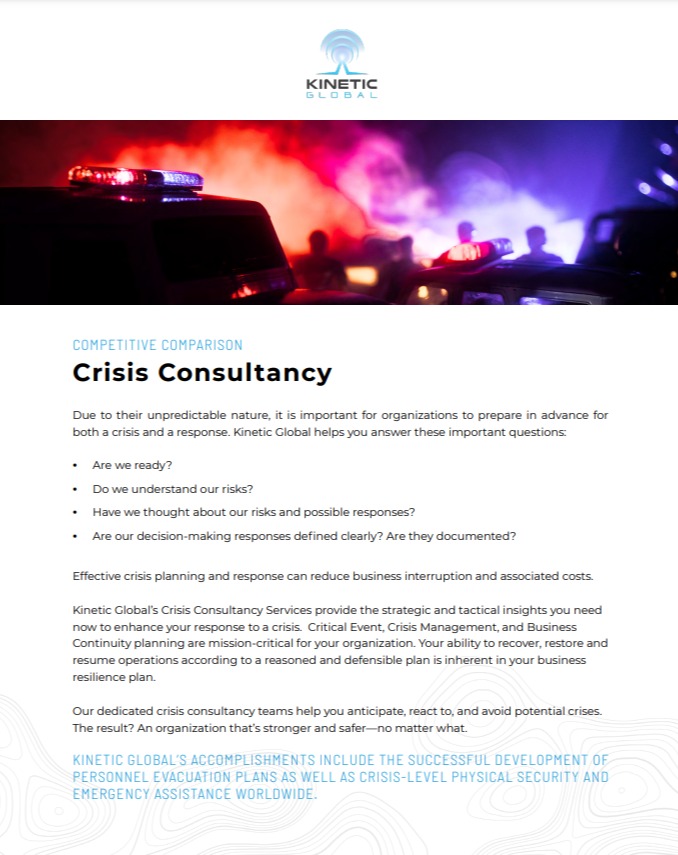 Kinetic Global helps you answer these important questions:
Are we ready?
Do we understand our risks?
Have we thought about our risks and possible responses?
Are our decision-making responses defined clearly? Are they documented?
Effective crisis planning and response can reduce business interruption and associated costs.
Kinetic Global's Crisis Consultancy Services provide the strategic and tactical insights you need now to enhance your response to a crisis. Critical Event, Crisis Management, and Business Continuity planning are mission-critical for your organization. Your ability to recover, restore and resume operations according to a reasoned and defensible plan is inherent in your business resilience plan.
Our dedicated crisis consultancy teams help you anticipate, react to, and avoid potential crises. The result? An organization that's stronger and safer—no matter what.
Kinetic Global's accomplishments include the successful development of personnel evacuation plans as well as crisis-level physical security and emergency assistance worldwide.