Emergency Mass Notification Systems (EMNS)
Compare Emergency Mass Notification Systems (EMNS) software for your organization
Feature and functional comparison matrix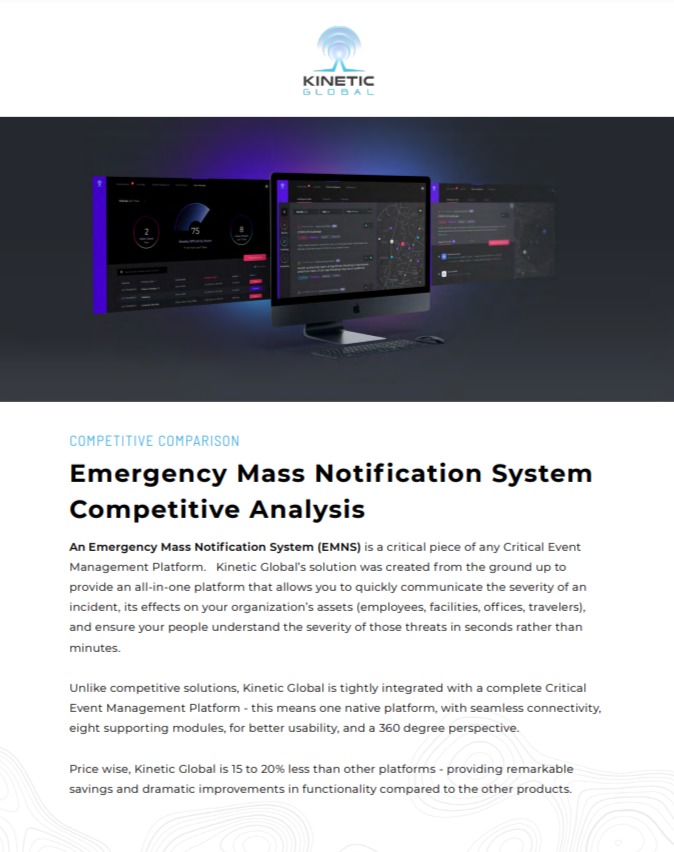 Evaluating Emergency Mass Notification Systems (EMNS)?
An Emergency Mass Notification System (EMNS) is a critical piece of any Critical Event Management Platform. Kinetic Global's solution was created from the ground up to provide an all-in-one platform where customers can quickly understand the severity of an incident, its effects on their organization's assets (employees, facilities, offices, travelers), and communicate threats in seconds rather than minutes.
Unlike competitive solutions, Kinetic Global is tightly integrated with a complete Critical Event Management Platform – this means one native platform, with seamless connectivity, better usability, and a 360 degree perspective.
Pricewise, Kinetic Global is 15 to 20% less than other platforms – providing remarkable savings and dramatic improvements in functionality.
How does Kinetic Global's EMNS platform compare to Alert Media, Everbridge, or Onsolve? Get the comparison matrix and see the difference.